Morchic Lava Rock Stone Anxiety Aromatherapy Gem Semi Precious Womens Mens Stretch Bracelet, Natural Black Essential Oil Diffuser Gemstone 10mm Beads Classic Simple Design Birthday Gift 8 Inch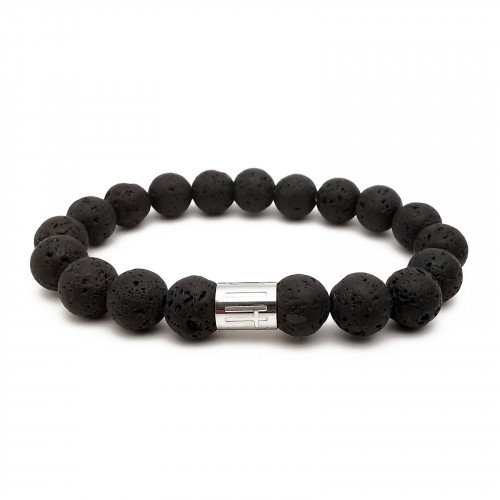 ❤ MATERIAL : We only use gemstone beads of grade A or above, this bracelet made of natural lava rock stone beads, it's elastic bracelet, high quality stainless steel column accessories mark "Morchic", hypoallergenic and corrosion resistant, strong TPU cord to protect bracelet not easy to break.

❤ SIZE : Length: approx 8 - 8.2 inches, inner length: approx 7 inches (17.8 cm) strong elastic bracelet, 10mm beads, suitable for man sizes of wrists. Natural semi-precious stones, please allow the slight difference in size, shape and color.

❤ APPLICATION : A simple design of the classic bracelet, the cool feeling of natural gemstones, make you feel good, nice gift for birthday, Christmas, anniversary, Valentine's day, Mother's day, Father's day or any special moments, come with printed "Morchic" gift box, easily as a gift for your lover, friends and family.

❤ GEMSTONE : Lava is a powerful grounding stone, clears and purifies negativity, helpful for calming the motions. Essential oil diffuser lava bracelet, drip some of your favorite essential oils and you can enjoy them in a day.

❤ ABOUT MORCHIC JEWELRY : We have been committed to providing high-quality products and satisfied shopping experience. If you have any question with your purchase, please feel free to contact us, we will help to solve the problem within 24 hours. Let's order now!