Morchic 10Pcs Hematite Stone Multi Faceted Rings for Women Men Unisex, Anxiety Balance Root Chakra 6mm Thick (Pack of Mixed Size)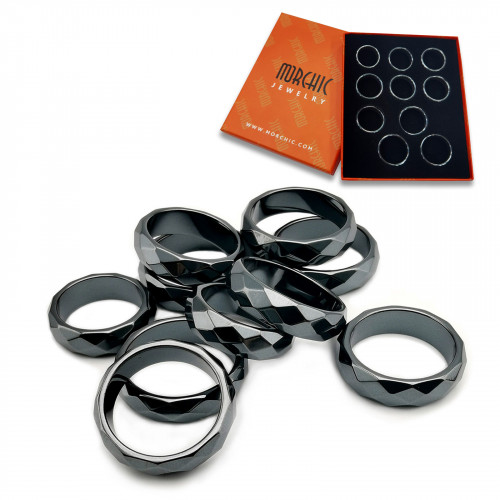 ❤ MATERIAL : 6mm width hematite stone polished multi-faceted rings (pack of 10 pcs), they not metal, break easily, it doesn't like to meet the floor. If you want to choose magnetic hematite rings, please select the magnetic style at the Morchic store list.

❤ SIZE : Wide banded size 6mm, mixed 7 different sizes ring in the package,(Include 6#x1, 7#x2, 8#x2, 9#x2, 10#x1, 11#x1, 12#x1), suitable for most finger sizes. These rings are cut and polished in the production process, which will lead to a slight change in ring size. We will control the deviation to no more than 0.5 #. please understand:)

❤ APPLICATION : Beautiful hematite multi-faceted rings, make you feel good. Nice gift for birthday, Christmas, anniversary, Valentine's day, Mother's day, Father's day or any special moments, come with printed "Morchic" specially designed gift box, packaging is ready for gifting, buy 1 pack share it with your friends and family.

❤ GEMSTONE : Hematite has been known as a healing stone, the energy of this crystal will help to balance your aura and align your Chakras, as it brings together the energy of the mind, body and spirit. It is an excellent aid in meditation.

❤ ABOUT MORCHIC JEWELRY : We have been committed to providing high-quality products and satisfied shopping experience. If you have any question with your purchase, please feel free to contact us, we will help to solve the problem within 24 hours. Let's order now!