Morchic Ocean Jasper Natural Gemstone Stretch Bracelet for Women Men Unisex, Genuine Energy Stone 8mm Beads, Classic Simple Design Cuff Birthday Gift 7.5 Inch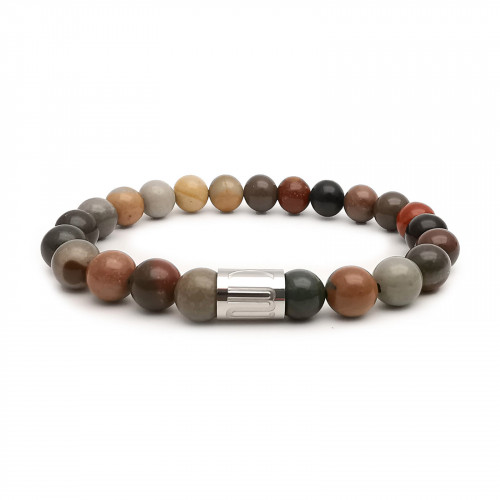 ❤ MATERIAL : We only use gemstone beads of grade A or above, this bracelet made of ocean jasper stone beads, it's elastic bracelet, stainless steel column accessories mark "Morchic", hypoallergenic and corrosion resistant, we use the transparent strong TPU cord to see the true color of the gemstone. Many people use colored cord to make gemstone look bright, but their colors are actually not real.

❤ SIZE : Length: approx 7.4 - 7.6 inches, inner length: approx 6.6 inches(16.8 cm) strong elastic bracelet, 8mm beads, suitable for different sizes of wrists. Natural semi-precious stones, please allow the slight difference in size, shape and color.

❤ APPLICATION : A simple design of the classic bracelet, the cool feeling of natural gemstones, make you feel good, nice gift for birthday, Christmas, anniversary, Valentine's day, Mother's day, Father's day or any special moments, come with printed "Morchic" gift box, easily as a gift for your lover, friends and family.

❤ GEMSTONE : High-quality ocean jasper, with a natural multi-colors, good to match clothes of any color. Wearing a natural gemstone bracelet for a long time is good for health, charm and confidence.

❤ ABOUT MORCHIC JEWELRY : We have been committed to providing high-quality products and satisfied shopping experience. If you have any question with your purchase, please feel free to contact us, we will help to solve the problem within 24 hours. Let's order now!