Morchic Womens Hematite Anklets, Handmade Foot Chain, Elastic Beach Chakra Jewelry 9.5" (Ank-Set1)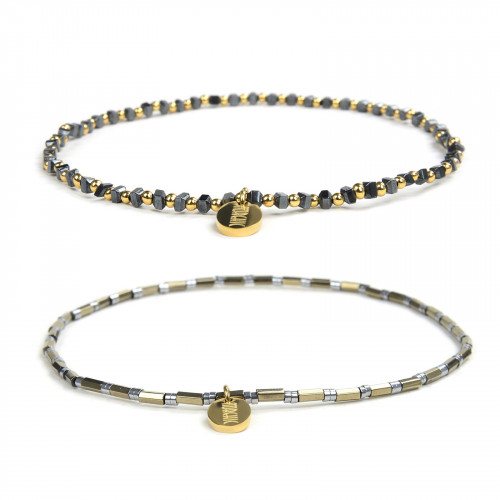 ❤ MATERIAL : This is a beautiful handmade anklets set, made by mini hematite beads,Two different styles of handmade anklets can match your beauty according to clothes or mood, logo tag is stainless steel.

❤ SIZE : Length approx 9.5 inches (24.1 cm), elastic anklet is comfortable to wear, suitable for different sizes of foot.

❤ GEMSTONE : Hematite has been known as a healing stone, the energy of this crystal will help to balance your aura and align your Chakras, as it brings together the energy of the mind, body and spirit. It is an excellent aid in meditation. Wearing a natural gemstone bracelet for a long time is good for health, charm and confidence.

❤ APPLICATION : Beautiful handmade hematite anklet bracelets, nice gift for beach party, birthday, anniversary, holiday, christmas, new year or any special moments, come with printed "Morchic" gift box, easily as a gift for your lover, friends and family.

❤ ABOUT MORCHIC JEWELRY : We have been committed to providing high-quality products and satisfied shopping experience. If you have any question with your purchase, please feel free to contact us, we will help to solve the problem within 24 hours. Let's order now!