Morchic 10Pcs Agate Band Rings for Women, Smooth Assorted Size Mulit Color 6mm Thick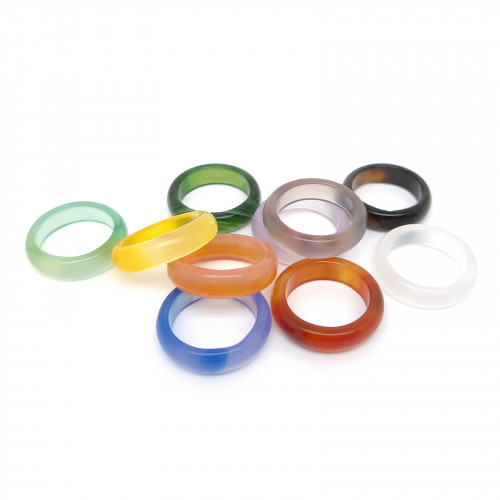 ❤ MATERIAL : 6mm width 10pcs assorted agate rings, The surface is polished and smooth, and it feels very comfortable, natural agate break easily, it doesn't like to meet the floor.
❤ SIZE: Their thickness is about 6mm. The rings we provide are assorted sizes and assorted colors. The ring size is 6# to 10#, most sizes are 7#-8#, suitable for women's fingers, if needed If you need a uniform size, please send a message to contact us. Because they are all natural materials, there may be slight deviations in the size, please understand.
❤ APPLICATION : Beautiful agate band rings, colorful and assorted size, nice gift for birthday, party, holiday, christmas, new year or any special moments, come with beautiful gift box.
❤ GEMSTONE : Agate is a kind of chalcedony minerals. It is often a band-shaped block mixed with opal and quartz. Usually has many colors such as green, red, yellow, brown, and white, colorful and beautiful.
❤ ABOUT MORCHIC JEWELRY : We have been committed to providing high-quality products and satisfied shopping experience. If you have any question with your purchase, please feel free to contact us, we will help to solve the problem within 24 hours. Let's order now!